What did you do this summer? If you ask Allison Greer how she spent her summer, she will tell you she spent it in intellectual bliss, devoting her summer to the prestigious Bread Loaf School of English at Middlebury College in Ripton, VT.
As an English MA student, Allison was always searching for ways to improve her reading and writing skills for the classroom. Looking for a challenge beyond the usual TCNJ graduate courses, she was first introduced to applying to Bread Loaf by TCNJ faculty, Bill Sowder and David Blake, both of whom had taken courses there while pursuing their degrees.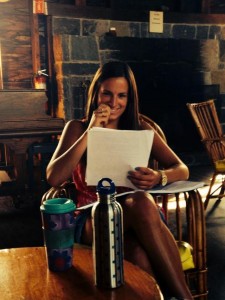 Students attending Bread Loaf typically intend to earn their graduate degree at the institution over five summers. Allison, however, was able to take two graduate English courses as a guest student this past summer. Collaborating with the TCNJ English department, Allison was able to integrate her experience at Middlebury towards her English MA at TCNJ. The two courses she took over the summer – "American Modernist Literature" and "Jews, Turks, and Moors in Early Modern English Literature" – met four times a week and transferred directly towards her graduate credits, allowing her to expand her writing experience while exposing her to a completely different environment outside of TCNJ courses.
Despite the distinct classroom experiences at the two campuses, Allison saw the parallels between the faculty at Bread Loaf and TCNJ with their dedication to the subject as well as their emphasis on critical theory that went beyond the text. "The friendships I gained at Bread Loaf have allowed me to develop into a smarter graduate student and a more effective high school English teacher," Allison explains. She hopes to use this experience in her own career and as she finishes her degree at TCNJ, employing the same techniques she admired in the faculty at both institutions.
The continuous intellectual dialogue at Bread Loaf challenged Allison to go beyond the literature and find out how she could connect her lessons to the classroom as a secondary English teacher, inspiring the love of literature in her own students. The seminar environment promoted open discussion with other English students and fostered an atmosphere for collaboration and debate. Allison notes, "The most transformative aspect of Bread Loaf was being surrounded by English teachers from across the country (and the world) who shared my passion for reading, writing, and teaching. The immersion experience fostered instantaneous bonds with my peers inside and outside of the classroom."