Salutations!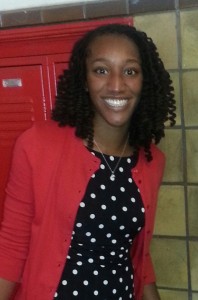 My name is Lindsay D. Rogers and it is indeed my pleasure to introduce myself as the English M.A. program's Graduate Student Representative!
As your voice and representative, I would like to nurture a tight-knit, familial atmosphere amongst students in the program while promoting mentoring and networking opportunities between staff and students. Over the course of my six years as an educator and four semesters as a graduate student, I have found this old adage to be true: "It takes a village to raise a child." Similarly, it takes a village to foster the growth of a scholar. I have found that my most invaluable resources have been the relationships that I have developed with staff and students. My professors have been instrumental in helping me navigate conferences, graduate school applications, and career decisions. Additionally, my peers have been my sounding board, providing research tips, narrowing my academic foci, inspiring me, and encouraging me.
I welcome any ideas and input to enhance the sense of community and collegiality within our department. Feel free to communicate your ideas through the following media:
Additionally, feel free to stop me on campus to express your comments, questions, and/or concerns.
I look forward to meeting all of you!