Cassandra Jackson is currently a professor at The College of New Jersey as well as an accomplished scholar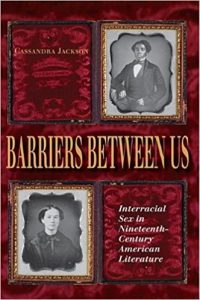 in the fields of American literature and visual culture. She is currently teaching a course at the graduate level on slavery and the black imagination, focusing on the representations of slavery in narratives ranging from the nineteenth century to the present day. Professor Jackson is the author of Barriers Between Us: Interracial Sex in Nineteenth-Century American Literature (Indiana University Press, 2004) and Violence, Visual Culture, and the Black Male Body (Routledge, 2010). Currently, Professor Jackson is working with the Grounds for Sculpture in Hamilton, New Jersey as the first-ever scholar-in-residence, consulting on a visual representation regarding the history of race in the US. The exhibit, entitled Joyce J. Scott: Harriet Tubman and Other Truths, opens to the public at the Grounds for Sculpture on October 22 and is on view through April 1. In addition to this project, Professor Jackson is presently working on a book of creative non-fiction on race and infertility as well as a collaborative project on author Toni Morrison.
---
You are currently working as the first-ever scholar-in-residence at the Grounds for Sculpture for an exhibit entitled "Joyce J. Scott: Harriet Tubman and Other Truths". What exactly does this project entail? What drew you to this work in the first place?
It's the coolest job ever. This exhibit is the first of its kind at GFS in that it actively attempts to engage the history of race in the U.S. and think about that history in relation to our current moment.  I consult on and participate in a wide variety of programming around the exhibit, including workshops on how to discuss race in the U.S. and book discussions that will help to illuminate the exhibit.  I also get to hang out at parties with some awesome artists, curators, and art directors.
Are you currently working on any projects in addition to this exhibit?
Yes.  I recently moderated a panel at the Congressional Black Caucus in DC on the dwindling number of black K-12 teachers, and the devastating impact of that decline on the outcomes of black students.  While the profession of K-12 teaching is not my field of expertise, I am the mother of two black girls, 6 and 3.  So I was eager to participate in and learn from this panel.  Congresswoman Bonnie Watson Coleman is now working on legislation based on the outcomes of that panel, and I've been asked to participate in upcoming discussions. You can check out the panel here: https://www.youtube.com/watch?v=ZK1ErJT96N4
I'm also working on two manuscripts: a collaborative project on how Toni Morrison can help people "get woke," and a memoir project on race and infertility.
In addition, I'm completing two book chapters,  one for a collection on lynching photography that will be published by Routledge next year, and another chapter on the art of the Black Lives Matter movement, which grew out of an invited talk I gave at a conference called "Black America and a the Police," in Bamberg, Germany last year.
If you could change one thing about how literature or history is being taught across the country (at any level), what would you change?
This is an easy one.  I'd make learning about the institution slavery as integral to American education as the Holocaust.
If you could pick one book to suggest to the current administration, what would it be and why?
By current administration, do you mean that dude that lives in the white house?  I don't think he's ever read anything longer than a tweet. He never even made it to the end of Barack Obama's birth certificate. Oh I know– how about Barack Obama's Dreams from My Father? LOL!
FAVORITE NOVEL/WO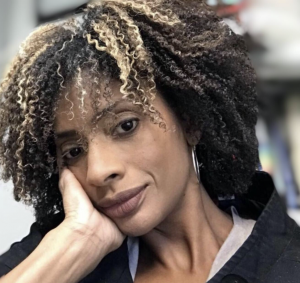 RK OF LITERATURE: Song of Solomon 
FAVORITE MUSICIAN/BAND: Otis Redding 
FAVORITE SONG LYRIC: Lyric from Beyonce's 'Formation': 
I like my baby hair, with baby hair and afros
I like my negro nose with Jackson Five nostrils
Earned all this money but they never take the country out me
I got a hot sauce in my bag, swag
FAVORITE FILM: Moonlight 
FAVORITE TV SERIES: Tie between The Wire and Six Feet Under (please don't make me choose!)
BEST CLASS YOU'VE EVER TAKEN (UNDERGRADUATE OR GRADUATE): I hope I haven't taken it yet
FAMOUS PERSON (LIVING OR DEAD) YOU'D LIKE TO INVITE TO DINNER: One of the Harriet's – Tubman or Jacobs. 
FOOD YOU WOULD EAT AT DINNER WITH ABOVE-MENTIONED FAMOUS PERSON: Boudin with crepes and Nutella
WHAT YOU WANTED TO BE WHEN YOU GREW UP: A "Solid Gold" Dancer (you tube it!)
BEST ADVICE YOU'VE EVER BEEN GIVEN: Stay Woke