Dr. Lincoln Konkle is currently a professor in the TCNJ English Department and a distinguished scholar in the field of dramatic literature, as well as studies of Thornton Wilder, Star Wars, and Bruce Springsteen. He is the co-founder of the Edward Albee Society, an organization dedicated to promoting the works and legacy of renowned playwright Edward Albee. Professor Konkle frequently teaches undergraduate courses in drama, including World Drama and American Drama, along with capstone and First Seminar courses on topics related to dramatic literature. This spring, he will be teaching a course at the graduate level on "The Tragic Vision," which seeks to explore the genre of tragedy for how it addresses timeless issues: Why do we suffer? Is it due to fate or our free will choices? Professor Konkle is the author of Thornton Wilder and The Puritan Narrative Tradition (U of Missouri Press, 2006), and co-editor of Thornton Wilder: New Perspectives (Northwestern University Press, 2013) and Stephen Vincent Benet: Essays on His Life and Work (McFarland & Co., Inc., 2003).
Are you currently working on any research products?
Finishing up co-editing a book: New Perspectives in Edward Albee Studies, Volume Three: Albee as Theatrical and Dramatic Innovator (forthcoming from Brill in 2019). Also I will be part of the editorial team of the new Thornton Wilder Journal, to be published by Pennsylvania State University Press (first issue to appear in 2020).
In this spring, you will be teaching a graduate course on drama, specifically the idea of "The Tragic Vision." How did you first encounter or theorize "The Tragic Vision?"
I didn't theorize the Tragic vision: Aeschylus, Sophocles, and Euripides did; or the Hebrew scripture writers; or the anonymous author of the epic of Gilgamesh. Or rather they wrote works that manifested a tragic vision of life or human nature or…. My first graduate Shakespeare prof. had us read Robert Corrigan's Tragedy: Vision and Form, which contained theories of tragedy (or excerpts of them) and essays about tragedy as a genre and as a worldview.
What are you most looking forward to about teaching this course in the spring?
Teaching Moby-Dick as a novel that can be considered a tragedy or expressing a tragic vision. I was blown away when I read it as an undergrad and a second time as a grad student. I've reached the point in my career when I'm trying to check off things on my bucket list, and I've always wanted to teach Moby-Dick.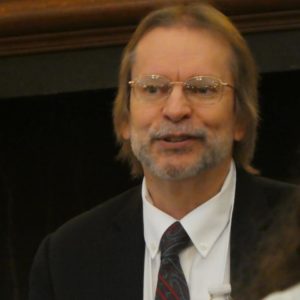 The course description for your class notes, "Tragedy seems to more explicitly reflect on the meaning of life, addressing such timeless issues as why do we suffer?  Is it due to fate (in one form or another) or our free will choices?" Do you think these questions are particularly relevant today, in light of our political and social climate?
It's always relevant to ask, "Why?" Even from an atheistic pov (substitute chance for fate). But about today's political/social climate, nearly 100 million Americans eligible to vote chose not to vote in 2016. They employed their free will to choose not to choose, and that has left all of us more at the mercy of the super-rich who funded and are still funding candidates for office that voted for huge tax cuts on wealthy individuals and corporations, and next they will say the resulting deficit spending at the federal level necessitates cuts in Social Security, Medicare, Medicaid, and the Affordable Care Act. You could argue that the billionaires and millionaires (individuals and corporations) donating to political candidates function as fate. Then there is the pushback against advances made by women, people of color, and members of the LGBT community. Again, voting for people who want to make America great again (for straight white men in power), or failing to vote against such people, is bringing suffering down upon ourselves. So often in life, as in literary Tragedy, it's not a matter of fate OR free will, but a combination of the two.
What do you love most about drama, and perhaps teaching drama specifically?
Because "The play's the thing." But seriously, you find some of the profoundest literary expressions about the human condition in plays. Think of all the great soliloquies in Shakespeare's tragedies, and even in some of his comedies ("All the world's a stage…" from As You Like It). Since the novel has been dominated by realism for much of its history, it's harder to have characters philosophize about life. It's also been more difficult for modern drama (the realistic phase), but some playwrights have pulled it off (e.g., Tennessee Williams, Edward Albee). And because there is the more obvious pretend quality of the theatre, you can get away with plot elements and characters in plays that you can't necessarily get away with in novels. Theatre evolved from religious ritual in multiple places and periods of human civilization, and it shares the quest for meaning and purpose of religion, as do all the arts (in the broadest sense), but theatre most closely resembles its origins.
Do you make an effort to attend live performances of drama and theatre? What is something you saw recently that you loved?
Yes, especially those related to the courses I teach (World Drama, American Drama, Modern European Drama). Most recently I saw a production of Wilder's other Pulitzer Prize-winning play, The Skin of Our Teeth, by the Peterborough Players as part of the Third International Thornton Wilder conference in New Hampshire in July. That is such a difficult play to perform (to balance the farce and the serious commentary on the human condition as always threatened with extinction) that I like to see every professional production of it I can. And since the Antrobus family (representing humankind) faces an ice age in Act One, a flood in Act Two, and a war in Act Three, it is quite relevant to our times.
If you could change one thing about how literature is being taught across the country (at any level), what would you change?
I would like to see English professors stop worshipping the golden calf of THEORY. I earned three degrees in English because I love reading literature, not theory. There's more to life and lit than the analysis of power and who has it. If literature is about anything, it's about the universality of suffering, which raises fundamental questions about the human condition and the world and the purpose of life.  If a theoretical approach opens up a text to new insights, that's great, but in our theory-driven profession it's like literature merely exists to illustrate theory. Booooo to that.
What is one piece of drama that you think every undergraduate in the English Department should read by the time they graduate?
That's an easy one: Hamlet. All-time great play as well as all-time great tragedy. There's something for everyone in the tale of the melancholy Dane. It's the Moby-Dick of plays. (And Moby-Dick is the Hamlet of novels.)
If you could pick one book to suggest to the current administration, what would it be and why?
Not just the president and his advisors, but the leadership of the Republican party and everyone at Fox News: I would like them to read The New Testament, or to be more specific, the four gospels: Matthew, Mark, Luke, and John. I'd also suggest that the people who claim to be Bible-believing Christians actually read the gospels. Jesus speaks against capital punishment, says negative things about rich people, urges us to help the poor and sick, criticizes religious hypocrites, and condemns adultery but never once says anything about homosexuality. I think why I would like them to read the gospels is obvious.
FAVORITE PLAY/NOVEL/WORK OF LITERATURE: 
Hamlet! Also, Our Town. Hamlet and Our Town address the profound questions that great literature asks about life.
FAVORITE MUSICIAN/BAND:
Bruuuuuuuuuuuuuuccce!!!! (I've published an essay on the tragic vision of Bruce Springsteen.)
FAVORITE FILM:
That's a tough one because I took four film studies courses (1 as an undergrad, 3 as a grad student), so I love to analyze artistic films as much as I do literature. Possibly my favorite film is It's a Wonderful Life for its expressionistic lighting, affirmative message and egalitarian theme, which its director, Frank Capra, made part of many of his films (e.g., Meet John Doe, Mr. Smith Goes to Washington). I'm teaching my FSP on Star Wars: Films & Adaptations, so as far my favorite Geek movies, the original Star Wars trilogy. Seeing what is now called Episode IV-A New Hope for the first time on a huge screen with a new Dolby sound system was one of the greatest experiences of my life.
FAVORITE TV SERIES/TV SERIES YOU ARE CURRENTLY ENJOYING:
The Big Bang Theory (because I'm a Geek, having got my start reading comic books, science fiction, and fantasy). Once it ends after this season, my wife's and my favorite, Mom. (Chuck Lorre is one of the great writers of comic dialogue.) Oh, and when it finally returns, Game of Thrones. It's an R-rated Lord of the Rings, and reading LOTR and seeing Peter Jackson's film adaptation of it were also all-time great experiences.
FAMOUS PERSON (LIVING OR DEAD) YOU'D LIKE TO INVITE TO DINNER: 
Shakespeare! And Bruce! (To try to talk him into giving me permission to reprint his song lyrics so I could publish my book studying his lyrics as poetry, short story, tragedy, comedy, etc., which I wrote on sabbatical. Fair Use Doctrine doesn't apply to song lyrics, so no publisher will touch it without permission.)
BEST ADVICE YOU'VE EVER BEEN GIVEN:
Don't overreact when things don't go the way you want, or when you fear something might not go well. Only the end of the world is the end of the world.